Last week, football enthusiasts worldwide turned their attention to the commencement of the 22nd FIFA World Cup in Qatar. It was an occasion marked by grandeur and celebration still shaded by controversy. This was a pioneering move for the Middle East as Qatar became the first nation in the region to host this monumental sporting event. However, many in the global community raised eyebrows over the decision to select Qatar, a compact nation smaller than Connecticut, with a somewhat muted history in soccer accomplishments, as the ideal venue for the World Cup, especially since the announcement back in 2010.
A glance at Doha, Qatar's bustling capital, showcases the mammoth efforts to prepare for this international event. The Qatari government reportedly dug deep into its coffers, spending a staggering $300 billion to overhaul the city. The landscape of Doha was transformed with the construction of state-of-the-art stadiums, world-class facilities, and luxurious hotels, all designed to ensure that visitors from every corner of the globe felt welcomed.
Driving this transformation was the sweat and toil of millions of migrant workers over a span of twelve years. Their relentless effort has arguably made this the most expensive World Cup in the annals of its history. However, behind the glitz and glamour lies a sobering reality.
A significant part of Qatar's workforce, approximately 2 million, comprises migrant workers. This is a staggering figure, especially considering that they constitute about 95% of the total labor force in a nation with a population just nudging 3 million. Following the announcement of Qatar's World Cup hosting rights, the nation witnessed a population surge of nearly 40%. The booming construction sector attracted an influx of migrant workers, with a notable majority hailing from South Asian countries.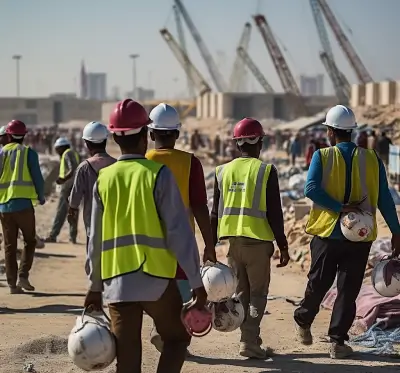 The life of a migrant worker in Qatar is far from easy. They are often subjected to grueling work schedules, exposed to hazardous environments, and face the relentless desert heat. This cocktail of harsh conditions has heightened the risk of accidents, severe health issues, and, tragically, even death. Even those in the prime of their youth and robust health aren't spared from heat-induced ailments. Upon completion of their assignments, numerous workers return to their native lands carrying the scars of long-term health complications or debilitating injuries, remnants of their tenure in Qatar.
Reports and firsthand accounts have painted a grim picture of the working conditions on World Cup construction sites. Workers have allegedly faced reprimands and threats for basic acts like drinking water or taking short breaks. Their plight doesn't end after their work shift. Many are housed in unfavorable conditions, with routine medical care as a luxury and malnutrition as a constant threat.
The Qatari administration has been at the receiving end of criticism for its perceived lack of urgency in investigating migrant fatalities. Many deaths have been conveniently classified under ambiguous labels such as "natural causes" or "cardiac failures." This tactic has implications beyond just optics – it robs grieving families of deceased migrants of any hope to seek rightful compensation from the state.
The global community hasn't remained silent on these concerns. Qatar and FIFA have felt the weight of international pressure since the brick was laid for the first World Cup infrastructure. The European Union parliament, representing the collective voice of its member nations, took a definitive stand. They voted in favor of urging FIFA to reimburse families of deceased migrant workers who lost their lives on World Cup assignments. Echoing this sentiment was the nonprofit entity Human Rights Watch, which launched a powerful #PayUpFIFA campaign. The campaign's objective is clear – to demand compensation totaling $440 million for the affected migrant workers' families, a sum that mirrors the World Cup's prize money.
Qatar's reliance on migrant labor is neither a recent phenomenon nor solely linked to the World Cup. The roots trace back to the region's contentious "kafala" system. This mechanism, which took hold after the 1950s oil boom, became the backbone for the Gulf's ambitious infrastructure aspirations, primarily leveraging foreign labor. Within the kafala framework, the scales are heavily tipped in favor of employers, granting them disproportionate control over migrant workers' employment terms and immigration matters. This often leads to a range of abuses, from wage withholding and passport confiscation to restricting fundamental freedoms like movement.
To many critics, the system closely mirrors the exploitative conditions of indentured servitude. The plight of these workers is exacerbated by the lack of regulatory oversight, giving employers a free hand to exploit. Many of these migrants, desperate for a better life, end up paying exorbitant fees to recruiters, only to find themselves trapped in a cycle of exploitation and abuse.
While the Gulf region's appetite for migrant labor has grown in their quest to diversify and modernize their economies, the dark legacy of the kafala system endures. The intense scrutiny on Qatar due to the World Cup did instigate policy revisions in recent years. However, there's a prevailing sentiment that these amendments are mere window dressing, failing to offer substantive protection to workers and their dependents. For instance, in Qatar, while migrant workers have been granted the freedom to change jobs without seeking their employer's consent and a standard minimum wage has been instituted, the true test lies in its implementation. Without rigorous enforcement, backed by stringent monitoring, these policies remain on paper, with companies continuing to evade accountability for their transgressions against the migrant workforce.
In summary, the issue of migrant labor and immigration reform in this region presents a complex challenge. The road to reform is long and winding, especially when pitted against influential private sectors that thrive on economical, imported labor.
Last Updated 11/17/23 09:36:38AM