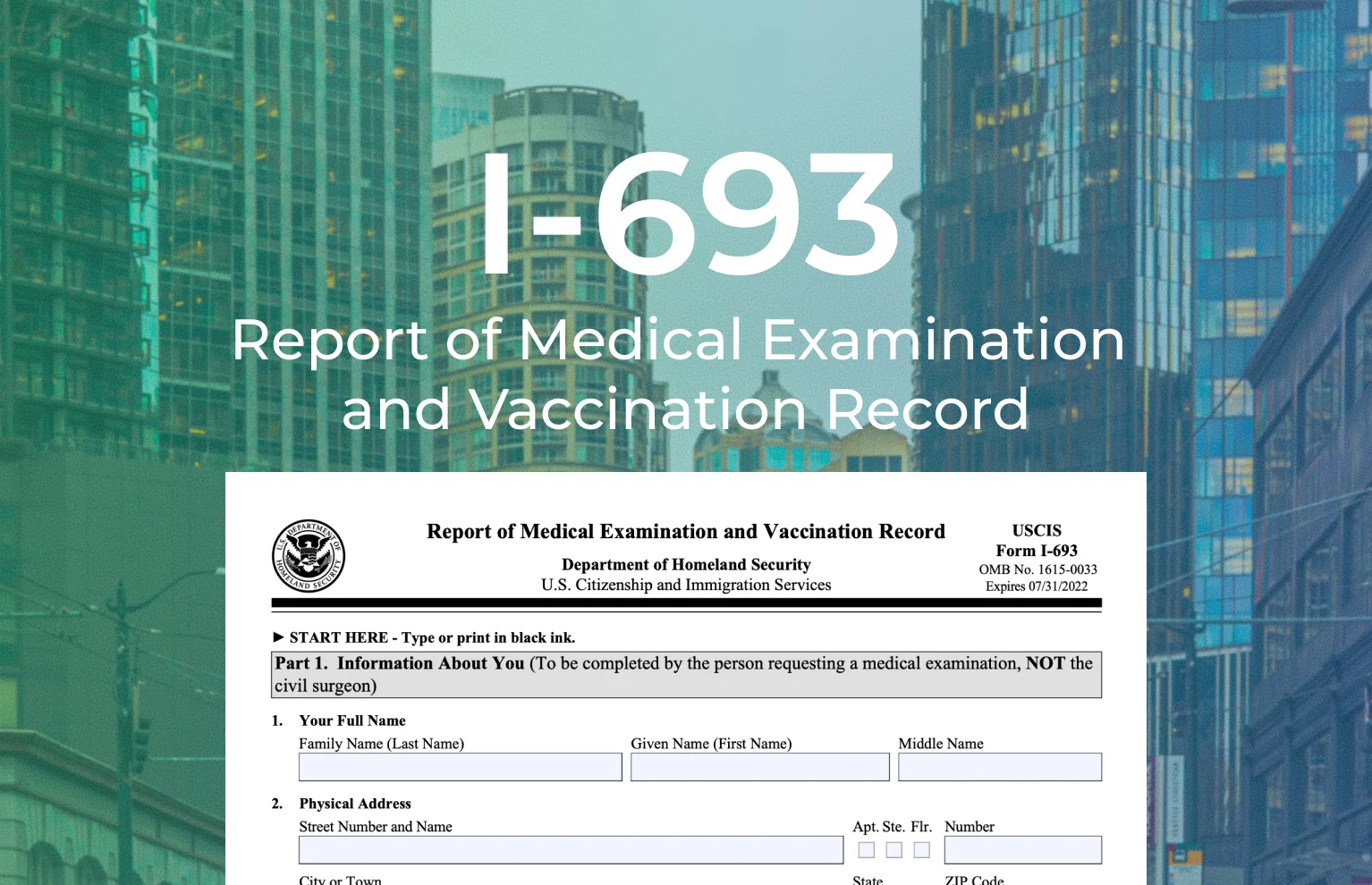 Forms I-693, which encompasses the Reports of Medical Examination and Vaccination Records, are usually needed for nearly all individuals who undergo status adjustments to become legal permanent residents (green card holders).
Suppose you are applying to USCIS to change your immigration status. In that case, you must establish that you are physically and mentally fit to enter the country by passing a medical test.
What's The Form I-693 For?
Green card applicants are often asked to submit to a medical examination as part of the immigration procedure. Only a government-approved physician (or civil surgeon) may provide the required medical clearance for permanent residency or citizenship. Here's what to expect from the immigration medical checkup.
Four primary medical conditions may render an applicant ineligible on health grounds during the immigration medical examination, namely:
Public health-relevant communicable diseases
Maladaptive behavior due to a physical or mental disorder
Drug and alcohol dependence or abuse
Noncompliance with vaccination requirements
Form I-693 is used by U.S. Citizenship and Immigration Services to collect data from medical exams. The United States government requires the examination to prove that the applicant does not pose a public health risk to the country. In addition, through a thorough evaluation, this medical test is used to ascertain that the USCIS applicants are free of any conditions that would render them inadmissible to the United States.
Who Needs Form I-693?
Nearly every application for permanent residency must demonstrate that they are not ineligible based on public health. This doesn't apply to people who want to get on the registry or were born in the US and granted diplomatic immunity.
If you've already received a medical exam abroad before entering the United States, and you are a:
K-2 and K-4 (children of K-1 and K3, respectively)
There is no need for you to have a medical evaluation again. Still, make sure that you submit Form I-485 no later than 12 months following your original medical evaluation date.
Note that during your abroad assessment, you must pass and ensure that the panel doctor did not discover any serious health issues, as defined by the WHO.
If a foreign medical examiner discovered a Class A ailment, you would need to retake the test unless you have been granted a "waiver of inadmissibility." Another important thing to remember is that proof of vaccine compliance is still necessary, even if a new medical evaluation is not needed.
Where Can I Access a Civil Sanctioned Physician?
The USCIS website lists civil surgeons who the government has designated. If you want to be sure that the doctor you're seeing is legitimate, you may question them directly during your consultation.
When to Send in Form I-693
To expedite the status adjustment process, Form I-693 should usually be included. You improve your chances of receiving prompt approval from USCIS officials by submitting a full application package.
CitizenPath suggests clients submit the I-693 with the I-485 form for the best results. USCIS normally considers a signed Form I-693's evidentiary validity for two years after the civil surgeon's signature to date.
Nevertheless, Form I-693 is not currently required by USCIS if you're filing a Form I-485. A medical test is optional. However, some applicants may submit it during their in-person interview. In certain cases, some applications may not even necessitate an interview. USCIS decides on interview waivers on a case-to-case basis.
This would cause USCIS to make a Request for Evidence (RFE) to get the findings of your medical examination, potentially slowing down your application's processing.
Immigration medical exam results are typically valid for two years. USCIS guidelines state that Form I-693 remains valid if signed by a civil surgeon within 60 days before filing the application for the immigration benefit and if USCIS reviews the application within two years of the civil surgeon's signature.
A USCIS-approved civil surgeon in the United States must conduct a medical examination. The findings must be recorded on Form I-693. Refer to Form I-693 guidelines for further details on the medical examination.
Last Updated 05/22/23 06:06:00AM