A green card is a document confirming the permanent residence status in the United States. It is considered an intermediate step in obtaining US citizenship. Such an ID gives the right to permanently reside in the USA, work on an official basis, get an education, start their own business, use insurance services, apply for social security, etc. A person can become a US citizen after 5 years of using the card.
As for obligations, the green card holder undertakes to strictly comply with the law, reside in the US for most of the year, and pay taxes. The card is usually canceled in case of leaving the country for more than half a year.
It is also worth understanding that a green card does not provide US citizenship. It is not a kind of passport. Its owner remains a citizen of his native country. Therefore, he cannot take part in elections and travel around the world without a visa, like the Americans.
But what about Canada? Can a person with a green card visit Canada? In fact, yes, it is possible without a visa. However, additional documents may still be required depending on the way of travel. Flying is subject to the most restrictions.
Ease of Traveling Between USA and Canada
America and Canada have a very close and multifaceted relationship. This is because they share the longest international border, are the world's greatest trading partners, and allow citizens' free movement from one country to another. Green card holders wishing to cross the border need official travel documents, including a green card and an identity-proof passport.
Features of Traveling by Land & Sea
Many green card holders travel to Canada by land or sea as this is the easiest way to cross the border. In this case, you do not need to be part of a tour group or have a travel visa. It is enough just to provide proof of US permanent residence, that is, a green card.
Flying to Canada With a US Passport
Canada is a foreign country for a US resident, so the flight is considered international and requires a passport. As a green card holder, you are not a citizen of the United States and do not have a passport. You should provide valid proof of identity from your native country to be able to use Canadian airports without any problems.
After 5 years of using a green card, you can become a full US citizen and get a passport of this country to use in place of your current one. Travel to Canada may also require other documentation (for example, an Electronic Travel Authorization (eTA)).
Is it Necessary to Have a Visa?
Green card holders do not need a visa to visit Canada for tourism purposes. The US residents can freely cross the border with Canada and stay there for half a year. If you need to extend the term, feel free to apply accordingly.
But remember that you are entering a foreign country as a visitor, so you cannot study or work there. Such a targeted visit to Canada may require a special immigration permit.
Electronic Travel Authorization: What Is It and Why Is It Needed?
An eTA is almost the same as a visa. But there are some differences. This document is for visa-exempt foreign citizens flying to Canada. The eTA is linked to the passport and is officially valid for up to five years. The person with an eTA can visit Canada as often as needed and stay there for up to half a year.
To get an eTA, you need to submit an online application with your email address, passport details, debit or credit card number. The cost is 7 Canadian dollars.
Please note that having an eTA does not mean you can travel to Canada without restrictions. You will still need to demonstrate your passport and green card to the border guard and be ready to answer all his questions.
Common eTA Mistake You Should Avoid
One of the most common mistakes that can cause you to get rejected at the border is the mismatch between the passport number in the eTA and the passport itself. Therefore, be sure to check the data when submitting an eTA application.
What Else Is Important to Know When Traveling to Canada?
Canada entry/stay requirements and current travel restrictions are available on the ArriveCAN website. There is also an application with the same name where you can find all the relevant information. Therefore, use these tools to ensure a pleasant visit to a foreign country.
How Will Traveling to Canada Affect My US Green Card?
Traveling to Canada will not adversely affect your permanent resident status if you meet all travel requirements. Thus, be sure to fill out all the required forms if you plan to stay in Canada for more than 1 year to avoid getting in trouble when returning to the US.
In some cases, the United States Citizenship and Immigration Services (USCIS) may consider your stay abroad as a rejection of the United States as your primary home. Then, the green card is canceled. But these are rare cases. The status of US permanent residents with all documents and permits is fully protected.
Importance of Proper Arrangements Before Traveling to Canada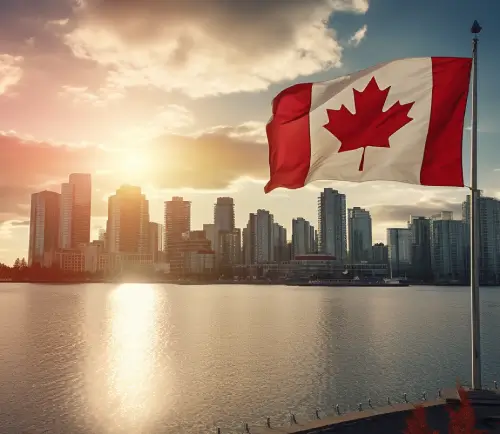 Although you don't need a visa to travel to Canada as a US green card holder, you should still make some arrangements:
Make sure the US green card is valid and does not expire during the trip;
Get temporary parole (form I-131) to travel outside the US if you are currently waiting for a green card with a pending form I-485;
Keep all your travel permits and documents secure while traveling.
Do not neglect the above tips. By taking the right precautions in advance, you will avoid many of the risks associated with green card travel.
Travel Around the World Without Any Worries
US green card holders are not obliged to have a visa to enter Canada for tourism purposes. It is enough to fill out several applications to cross the border freely. Still, other countries may have more stringent requirements. Therefore, be sure to study them before traveling abroad.
Last Updated 10/10/23 01:42:27AM