While submitting various USCIS forms and requests, you'll come across a section where they ask for your online USCIS account ID.
The (USCIS) U.S. Citizenship & Immigration Services handles immigration issues in the United States. In recent times, it has been moving towards an internet-based approach. This shift has brought the requirement of an online USCIS account identifier for individuals with an account.
Remember that not everyone is obliged to have an account. We'll clarify whether this is necessary for you and provide instructions on how to set one up if needed.
Making Sense of Your Online USCIS Account Numbers
USCIS suggests using online accounts for case updates and communication with immigration offices. Every individual's profile is linked to an exclusive 12-digit registration code.
USCIS account numbers differ from alien registration codes (A-Numbers) or receipt numbers. It's a unique set of numbers that identifies your online account.
Here are the advantages of keeping a USCIS web account:
Check your present case status and track your case history.
Reply to Requests for Additional Evedinces/Information (RFIs).
Receive alerts and updates regarding your case.
Handle your contact details.
USCIS online IDs are not limited to immigrants. Even native-born petitioners with citizenship can have an ID. In addition, legal representatives can establish an ID to oversee their clients' cases on the Internet.
Should you opt not to use your USCIS web ID, USCIS will continue to handle your application or request via their digital submission platform. You will receive paper-based notifications and form updates via U.S. Postal Services.
You can also monitor your case's progress without an online ID. Just head to the USCIS online case status webpage and input your receipt number.
Track Down Your USCIS Online ID: Where to Locate It
If you've submitted specific paper forms before, you may receive a notification called the Online USCIS Account Access Notices. Look for the online USCIS account code at the top of this notification.
Alternatively, they can provide you with the code electronically if you've previously applied, petitioned, or requested through the USCIS digital submission system.
Don't fret if you can't locate the code. There's no need to worry. If you're uncertain whether USCIS has ever assigned you a code, leaving the "Online USCIS Account Number" field blank when completing a form is fine. You also have the option to create a new account if needed.
How to Create Your Online USCIS Account Number
If you wish to create a USCIS web ID before submitting an application or request, you can register via the USCIS site.
You also have the option to include cases filed on paper into your account. Simply click on "My Account" and choose "Add paper-filed cases" from the dropdown menu. Enter receipt numbers, and you'll gain access to your case's status and history.
If you haven't submitted your case online but possess a receipt number that starts with "IOE" and the Access Code you got on your USCIS Account Access Notification, you can link the case to your account.
This allows you to do the following:
view the case's status and history,
send secure messages,
check notices,
upload additional evidence,
and respond to Requests for Additional Information (RFIs).
Consult the USCIS guidelines for more comprehensive instructions.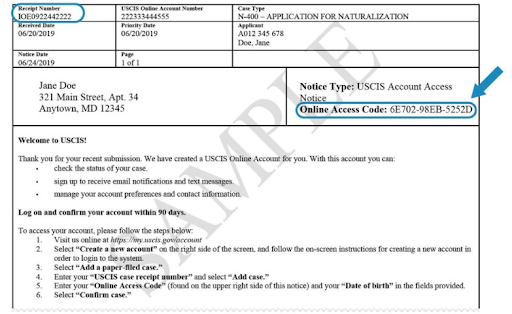 New Immigrants & Getting Your First Green Card
Once the U.S. embassy issues an immigrant visa, new arrivals can establish a USCIS web ID upon paying the USCIS immigrant charge.
This simplifies monitoring the green card's progress. USCIS will deliver electronic alerts regarding case advancements, and newcomers can modify their mailing addresses if needed.
To set up your USCIS web ID, you'll go through an identity verification process. This involves answering questions related to your immigration background accurately.
USCIS advises having various documents ready to authenticate your account:
Passports
Immigrant visas
Copy of visa applications
Copy of immigrant petitions (Forms I-130)
You don't have to establish an internet account to monitor your green card's progress. You can still do this through Case Statuses Online.
Hold onto your USCIS immigrant fee payment receipt number, starting with "IOE." You'll require this number to keep tabs on your case.
After receiving your USCIS online ID, ensure its safekeeping for future application use.
Last Updated 09/18/23 06:11:48AM