How to Get a Driver's License if You Are a US Immigrant?
Life in the USA will be much harder without a car. More and more citizens of America drive a car as many big cities utilize railroads, buses, and subways. Teenagers can get a driver's license at the age of 16.
However, this rule doesn't work for immigrants. The age milestone isn't the only requirement for getting a driver's license for them. If you are going to apply for a driver's license, you need to check the rules for obtaining in the state you are now. The process for getting a license varies from state to state in the USA. Some aren't as demanding as others.
Can an Immigrant Status Prevent You from Obtaining a Driver's License?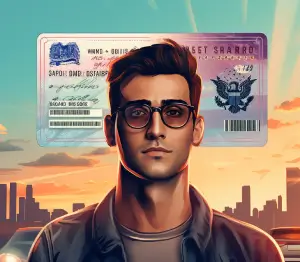 The first thing you need to do is check the rules for getting a driver's license in the state you live in now. Are you an undocumented immigrant? Then, you are free to apply for a driver's license in the states listed below:
Colorado
Connecticut
New Mexico
Delaware
California
Hawaii
Nevada
New York
Oregon
Utah
Washington
Maryland
Columbia
Illinois
Do you have a driver's license issued in a foreign country? The good news is that you can use it for up to one year. However, you need to take into account the laws of the state you reside in at the moment.
Requirements Immigrants Should Meet to Get a Driver's License
As has already been said, the processes and rules depend on the state. In some, you may face a need to be a green card holder. However, not all states have this requirement. Among the most common requirements for obtaining a driver's license are the following:
Provide your ID and passport,
Prove you've got the right to reside in the state,
Prove you've got the security,
Provide your driving license issued in your Motherland.
Remember that some specific requirements may be valid in your state only. That's why you're recommended to go to the site of your state and learn them carefully before you apply.
How to Pass the Driver's Test in the USA?
The driver's test consists of 2 parts: theory and practice. You need to demonstrate your theory knowledge in the written part of the test first. Then, you should pass a driving test successfully.
You can always find more information about the recommended parts of the driver's test on your state's website. There is also the necessary information for those who have failed and want to retake the test.
Let's have a closer look at both the written and driving portions of the test:
Written test. You should be ready to demonstrate your knowledge of all the road laws. If you fail the written portion of the test, you won't be able to pass to the next stage. That's why take it seriously and learn the materials from the official website. You can find many tests with quizzes online to practice before taking a test.
Driving test. You should be ready to drive on the road. Your examiner will estimate your ability to maneuver. You'll fail automatically if you don't stop where it is the appropriate sign or hit something. How to prepare for the driving test? You need to attend driving classes for some period.
What Is an International Driver's Permit and How to Get It?
An international driver's permit (IDP) is a must-have for those who like traveling. It makes it possible to drive in 150 countries. Sounds great, doesn't it? But you can obtain it only after you get a green card.
Keep in mind that only the American Automobile Association and the Touring Alliance have the right to issue the IDP.
How to Renew Your Driver's License in the USA?
If you need to renew your driving license, you should go to your state's site to check what documents you must provide. One more thing to consider: your license's validity period may vary from state to state.
You will find all the necessary information about the expiration date and the must-have documentation for your license renewal on the state's website. Now, take care of your green card and go to the next step - obtaining a driver's license.
Last Updated 11/11/23 10:39:57AM