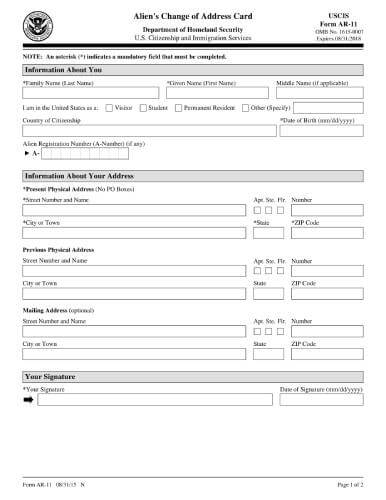 If you are an alien in the United States, then you must notify U.S. Citizenship and Immigration Services (USCIS) about any changes of your living address using Form AR-11, Alien's Change of Address Card.
Note that you must inform USCIS about the address change within 10 days after such change happened. If you fail to provide USCIS with your new address within the specified term, USCIS may fine or even imprison you. Under specific circumstances, USCIS may even deport you from the country.
Form AR-11 instructions
Form AR-11, Alien's Change of Address Card, is very simple, and there is not much information to provide. Follow a few recommendations listed below concerning how to fill out Form AR-11.
Sign the form. USCIS demands that all the forms you send to it must be properly signed, and Form AR-11 is no exclusion;
Provide all the requested data.
You must not omit any required data as USCIS will send back the form. Here are the data you need to provide:
Your first and last name;
Your current status in the U.S., such as whether you are just a visitor, student, lawful permanent resident or conditional permanent resident;
Your date of birth;
Your Alien registration number (if you have this number);
Your current address, including the name and the number of the street where you live as well as the city or town and the state. Also mention the correct ZIP code.
Form AR-11 fee
There is no fee for filing Form AR-11.
Form AR-11 processing time
It typically takes up to two weeks to process your Form AR-11. You do not need to do anything besides filing Form AR-11 with USCIS such as visiting a USCIS office to take your fingerprints and photographs.
Where to send Form AR-11
You need to file the completed form to the following mailing address:
U.S. Department of Homeland Security
Citizenship and Immigration Services
Attn: Change of Address
1344 Pleasants Drive
Harrisonburg, VA 22801
Form AR-11 PDF
Download a free copy of Form AR-11, Alien's Change of Address Card, from our website. The form contains only one page.
Last Updated 01/05/23 03:04:50AM