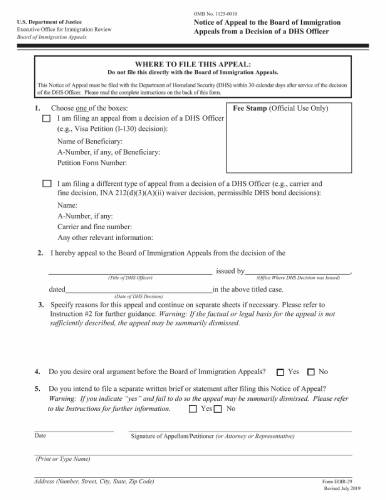 Form Is Used for
Arbitrating all applications for visas is in the jurisdiction of the local Director or the Regional Service Center Directors of US Citizenship and Immigration Services (USCIS). After reviewing visa petitions (as well as revoking or confirming approvals for visa applications), the District Director or Regional Service Center Director notifies applicants in a writing form about a resolution adopted.
Applicants may appeal against the resolution before the Board of Immigration Appeals (Board) or USCIS if law and regulations allow it. In order to identify the organization authorized to handle the appeal, the petitioner should check out the Immigration and Nationality Act (INA) and the Code of Federal Regulations (CRF).
Jurisdiction of the Board covers family-based immigrant applications as required by Sections 204 of the INA (excluding the petitions of certain orphans). Applicants need to provide the EOIR-29 form is cases that fall within the jurisdiction of the Board. Checking out the instructions listed in the form might help to clarify the plan of action.
Details
No data
Last Updated 03/27/23 04:15:50AM