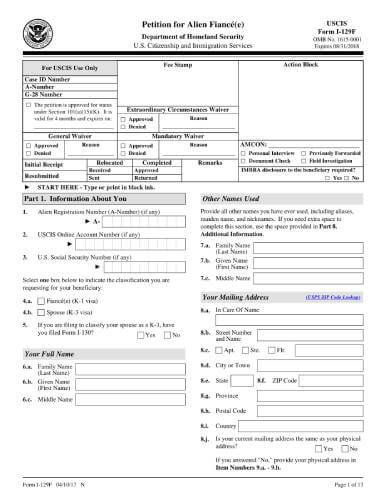 You need to file Form I-129F, Petition for Alien Fiancé(e), if you want your fiancé(e) to move to the United States, obtain the green card, and become a lawful permanent resident. Note that even if your petition for your fiancé(e) is approved, that does not mean that your fiancé(e) is already a U.S. resident. Your fiancé(e) also needs to request the the K1 visa before he or she arrives to the U.S. (and if your fiancé(e) has children, they can move to the U.S. with the K-2 visa).
There is an alternative way to obtain the green card when your petition is approved. Your fiancé(e) can arrive to the U.S. and apply for adjustment of status. (Adjustment of status means that your fiancé(e) requests the green card to become a permanent resident when he or she is located on the U.S. territory without a green card.
You can only file Form I-129F as a permanent resident (the green card holder) or as a U.S. citizen.
General Form I-129F instructions
If you file Form I-129F, Petition for Alien Fiancé(e), with USCIS, you should follow a few general recommendations.
In the following list, you can find the main tips on how to fill out Form I-129F:
Only use the black ink to fill out the form. It is recommended to write block letters to improve the legibility of text. You should also clip several sheets of paper together.
Mention all the required information in all the sections in Form I-129F. If you make an error, you must start a new application form.
Gather the supporting documentation for your petition.
Note that the petitions for alien fiancé(e) USCIS requires various evidence such as the certificate of naturalization or citizenship. You may need to prepare the evidence depending on the reason for your petition, for example, a marriage certificate. If you need more information what certificate you may need to prepare, you should consult your lawyer. You can consult the Form I-129F instructions for more details on what USCIS can require from you.
Form I- 129F fee
The fee for filing Form I-129F is the same as for the Form I-130, that is $535. Because the fee may be changed by USCIS, you should check the correct fee before actually paying it.
You can only pay the exact amount of $535, and if USCIS requires you to pay for the biometrics services, you need to pay extra $85 separately from the Form I-129F filing fee. USCIS mentions that the Form I-129F applicants can pay the fee using a money order, personal check, or cashier's check, but they cannot pay using their credit or debit card.
Form I-129F processing time
The U.S. government cannot tell how much time it will take to process your Petition for Alien Fiancé(e). Depending on the validity of the documents that you provided with your Form I-129F application and the amount of petitions that USCIS has to process, it takes up to a year to approve your petition. It also takes time for your fiancé(e) to get the visa (which is usually up to 6 months).
USCIS may request various documents from you to support your petition, so you should be ready to apply them with your Form I-129F. Also, you may need to visit USCIS to provide your fingerprints and photographs. You should not miss the appointment as this will lengthen the time before your petition gets approved. Not only that, USCIS may even reject your petition, and you will have to file another one.
Where to send Form I-129F
You can only mail Form I-129F, Petition for Alien Fiancé(e), to one of the three USCIS mailboxes. To get the correct USCIS mailing addresses, consult the Where to File section on the Form I-129F page.
Form I-129F PDF
Download a free copy of Form I-129F, Petition for Alien Fiancé(e), from our website.
Download  pdf file form I-129F petition form for the bridegroom Download instructions Form I-129F | Petition for Alien Fiancé(e)
Last Updated 03/09/23 04:18:27AM