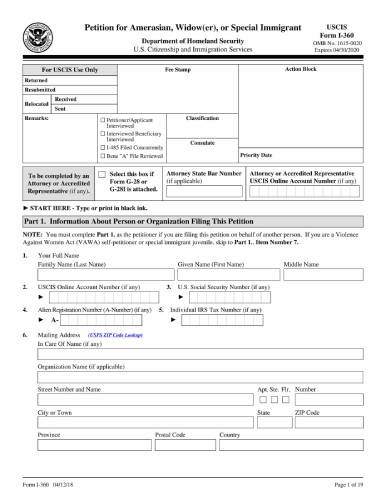 Form Is Used for
The form is a petition for classifying a foreign citizen as one of the followings:
an Amerasian;
a widow (widower);
US Citizen or Permanent Resident's spouse or child suffered from abuse;
a special immigrant, who, in turn, may refer to one of the categories:
Employees of religious institutions;
Panama Canal Company's staff or government employees in the Canal Zone;
Medical workers;
Employees of international institutions or their family members;
Minors under the Juvenile Court supervision;
Military workers;
Residents of Afghanistan or Iraq who worked as interpreters with the USA military units or who worked for or in support of the USA Government on the local territories.
Details
Starting from 11/26/2008, all employees of religious institutions applying for Religious Worker status must provide the Employer Attestation attached to Form I-360. This requirement is obligatory to all the petitioners. If required, some applicants must add to the document package the Religious Denomination Certification, which also goes with the form.
In order to immigrate on the grounds of being a widow/widower of the deceased US residents, an applicant must submit the form within the two-year period after the spouse's death. Due to the changes in the Immigration and Nationality Act introduced by Section 568(c) of Public Law 111-83 as of 10/28/2008), a widow/widower can immigrate to the USA even after being married to the US resident for less than 2 years. Getting married to another person annuls the right of an applicant to request immigration permission based on being a widow/widower.
Download I-360 Form Download instructions Form I-360 | Petition for Amerasian, Widow(er), or Special Immigrant
Last Updated 03/26/23 05:14:57AM