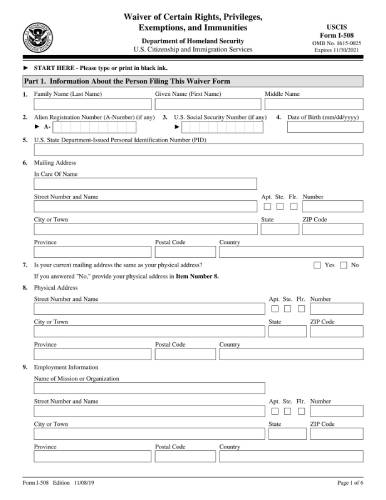 Form Is Used for
The form is applicable to people who want to apply for permanent residency and who fall under the following categories:
legitimate permanent residents;
nonimmigrants with A, G or E status;
people acting as team members of a foreign government mission in the US territory;
*The exception is citizens of France since the Convention between the French Republic and the USA covers special relations of these states.
Filing the form obliges the applicants to refuse specific diplomatic rights, freedoms, and prerogatives in paying taxes on the wages, which they receive from the governments of other countries. Thus, they undertake to pay US income tax.
Failure to pay the tax in a proper manner leads to the adjustment of Permanent Resident status to A, G or E status, while nonimmigrants may not be allowed to get Permanent Resident status.
Details
No data
Download I-508 Form Download instructions Form I-508 | Request for Waiver of Certain Rights, Privileges, Exemptions and Immunities
Last Updated 03/27/23 03:57:24AM