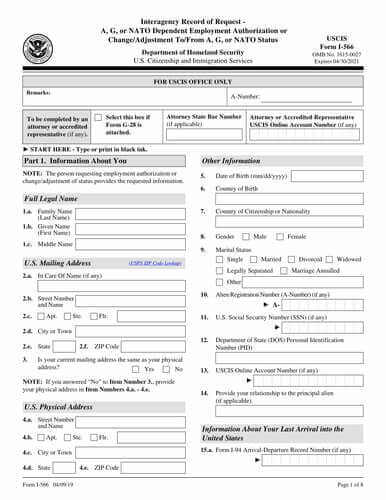 Purpose of Form
If you are going to immigrate to the US as A-1, A-2, G-1, G-3, G-4, or NATO 1-6 immigrants, you can take your family with you and they can live and work in the US without any problems. However, this type of immigrants has to get the appropriate authorization in order to get the possibility to work in the US.
Special Instructions
Family members have to file USCIS Form I-566 (Interagency Record of Request -- A, G or NATO Dependent Employment Authorization or Change/Adjustment to/from A, G or NATO Status) in order to work in the US. Except this form, they also have to file a dependent employment authorization form.
Download Form I-566 Download instructions Form I-566 | Interagency Record of Request -- A, G or NATO Dependent Employment Authorization or Change/Adjustment to/from A, G or NATO Status
Last Updated 03/27/23 03:45:00AM