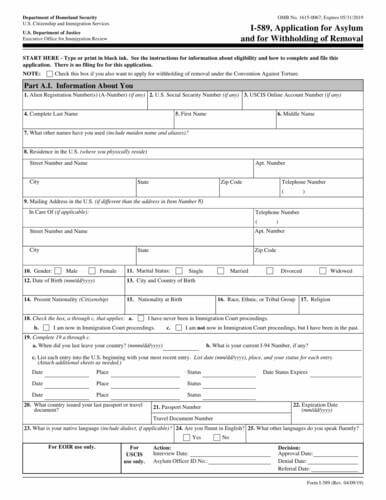 Purpose of Form
If you are staying in the US but you are not a citizen of this country, you can ask for asylum. There are two main reasons, which you can use to prolong staying. The first one: it's dangerous to come back to your home because of your race, political views or religious beliefs. The second one: you may be removed from the US but you want to stop this process in some cases.
Special Instructions
In order to apply for asylum in the United States of America, you have to file USCIS form I-589 (Application for Asylum and Withholding of Removal). You need to justify the necessity of staying in the US and getting this status.
Where to File
If you are currently in immigration court: You must file your Form I-589 with the immigration court that has jurisdiction over your case.
If you live in

Then file your application with the

Alabama
Arkansas
Colorado
District of Columbia
Florida
Georgia
Louisiana
Maryland
Mississippi
New Mexico
North Carolina
Oklahoma
Puerto Rico
South Carolina
Tennessee
Texas
U.S. Virgin Islands
Utah
Virginia
West Virginia
Wyoming
Western Pennsylvania counties of Allegheny, Armstrong, Beaver, Bedford, Blair, Bradford, Butler, Cambria, Clarion, Clearfield, Crawford, Elk, Erie, Fayette, Forest, Greene, Indiana, Jefferson, Lawrence, McKean, Mercer, Somerset, Venango, Warren, Washington, and Westmoreland

Texas Service Center
Attn: Asylum P.O. Box 851892
Mesquite, TX 75185-1892

Arizona
California counties of Imperial, Los Angeles, Orange, Riverside, San Bernardino, San Diego, Santa Barbara, San Luis Obispo, or Ventura
Guam
Hawaii
Nevada counties of Clark, Esmerelda, Nye or Lincoln

California Service Center
P.O. Box 10881
Laguna Niguel, CA 92607-0881

Alaska
Idaho
Illinois
Indiana
Iowa
Kansas
Kentucky
Michigan
Minnesota
Missouri
Montana
Nebraska
North Dakota
Ohio
Oregon
South Dakota
Washington
Wisconsin
Any county in California or Nevada that was not listed above

Nebraska Service Center
P.O. Box 87589
Lincoln, NE 68501-7589

Connecticut
Delaware
Maine
Massachusetts
New Hampshire
New Jersey
New York
Rhode Island
Vermont
A county in Pennsylvania that was not listed above

Vermont Service Center
Attention: Asylum
75 Lower Welden St.
St. Albans, VT 05479-0589
Don't forget to sign your form! We will reject any unsigned form.
Download Form I-589 Download instructions Form I-589 | Application for Asylum and for Withholding of Removal
Last Updated 03/26/23 05:54:48AM