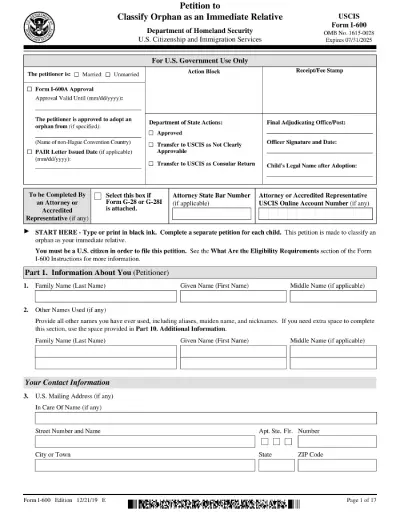 Purpose of Form
It's a well-known fact that adopting children from another country can be very difficult and complex. In addition, even despite the fact that you have managed to adopt an orphan, it doesn't mean that it becomes the US citizen automatically. This process takes a lot of time as well. However, you can speed it up.
Special Instructions
If you want to make the adopted child the US citizen more quickly, you need to declare your child an immediate relative of the US citizen. In this instance, it will be significantly easier to get the citizenship. To apply for this process, you have to file USCIS form I-600 (Petition to Classify Orphan as an Immediate Relative).
Download I-600 Form Download instructions Form I-600 | Petition to Classify Orphan as an Immediate Relative
Last Updated 03/27/23 04:56:46AM