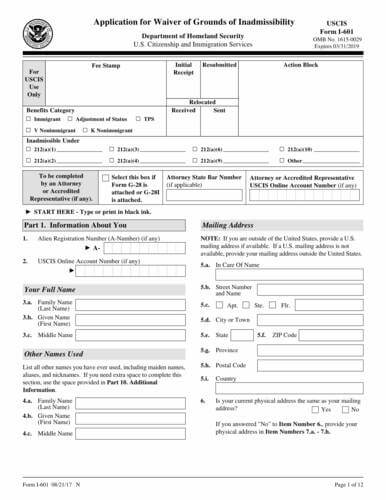 Purpose of Form
It's a common problem that some people are not admissible to the US according to our legislation. For example, people may be not admissible because they have dangerous diseases or criminal background. In addition, some people cannot get inside the US because of other immigration factors. If you want to become admissible to the US but you understand that there are special factors, which can doesn't allow you to solve this problem, you can file the appropriate form in order to cancel this restriction.
Special Instructions
You should file USCIS Form I-601 (Application for Waiver of Grounds of Inadmissibility) if you want to overcome inadmissibility restrictions. However, your application has to be reasonable, that's why try to prove the necessity of this decision.
Download form I-601 Download instructions Form I-601 | Application for Waiver of Grounds of Inadmissibility
Last Updated 03/27/23 03:45:50AM