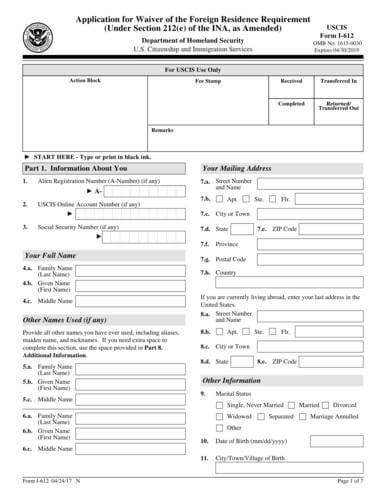 Purpose of Form
If you are the member of any exchange program, you have a possibility to get J-1 or J-2 visas. These programs are created in order to exchange cultural and professional experience, that's why US citizens can leave the US in order to live in another country, while non-American citizens can live in the US and develop their language skills or learn something new about our culture. Holders of these visas can stay in the US until the end of the exchange program. In most cases, you cannot come back to the US within two years after this program. However, there is a legal possibility to overcome this prohibition.
Special Instructions
If you are a former J-1 and J-2 visas holder and you want to visit the US before the expiration of two years after the exchange program, you have to file USCIS form I-612 (Application for Waiver of the Foreign Residence Requirement (under Section 212(e) of the Immigration and Nationality Act, as Amended) in order to cancel this restriction.
Where to File
If You Are Filing Form I-612 Because Of:
Mail Your Form To:

Exceptional hardship to your U.S. citizen or lawful permanent resident spouse or child;
Your belief that returning your country of nationality or last residence would subject you to persecution on account of race, religion, or political opinion

For U.S. Postal Service:

USCIS California Service Center
I-612 Unit
P.O. Box 30112
Laguna Niguel, CA 92607-0112

For express or courier delivery:

USCIS California Service Center
24000 Avila Rd.
2nd Floor, Room 2312
Laguna Niguel, CA 92677

You received a request from an interested U.S. government agency;
You received a written statement from your country of nationality or last foreign residence that it has no objection to the waiver; or
A state department's department of public health, or its equivalent, sent a request to the U.S. Department of State for you to work in a medically underserved area (Conrad Waiver Program)

The address listed on the Department of State's website.
Don't forget to sign your form! We will reject and return any unsigned form.
Download Form I-612 Download instructions Form I-612 | Application for Waiver of the Foreign Residence Requirement (under Section 212(e) of the Immigration and Nationality Act, as Amended)
Last Updated 03/27/23 04:02:37AM