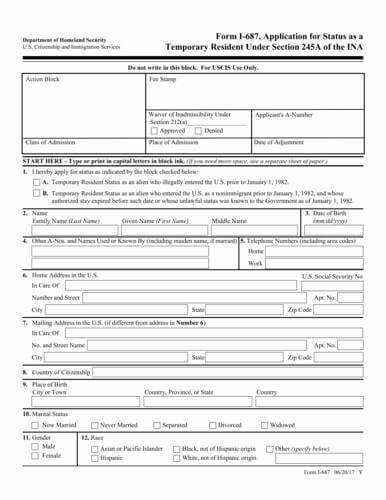 Purpose of Form
USCIS Form I-687 (Application for Status as a Temporary Resident Under Section 245A of the Immigration and Nationality Act) changed its initial purpose over time. At the very beginning, this form was created in order to please the needs of people who take part in the legalization program under the Immigration and Nationality Act (INA) Section 245A, part of the 1986 Immigration Reform and Control Act. Even despite the fact the abovementioned program was finished many years ago, this form is still used and it is quite popular.
Special Instructions
You can use USCIS Form I-687 if you are the applicant who wants to apply for benefits under settlement agreements.
Download I-687 Download instructions Form I-687 | Application for Status as a Temporary Resident Under Section 245A of the Immigration and Nationality Act
Last Updated 03/27/23 04:17:20AM