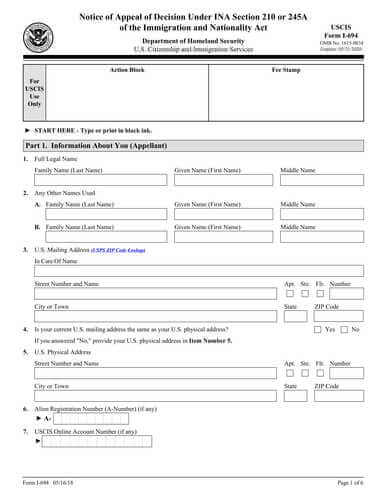 Purpose of Form
There is always a possibility to appeal the decision of the state agency, which denied your green card or temporary residence application. In addition, you can appeal the decision, which refuses your right for a waiver under the Immigration Reform and Control Act of 1986 (IRCA) amnesty program.
Special Instructions
If you want to appeal this decision, you should refer directly to the USCIS director by filling USCIS Form I-694 (Notice of Appeal of Decision Under Sections 245A or 210 of the Immigration and Nationality Act). Don't forget that it's really expensive to file this Form, that's why it's strongly recommended to provide reasonable proofs of your point of view.
Download Form I-694 Download instructions Form I-694 | Notice of Appeal of Decision Under Sections 245A or 210 of the Immigration and Nationality Act
Last Updated 02/26/20 06:55:17AM