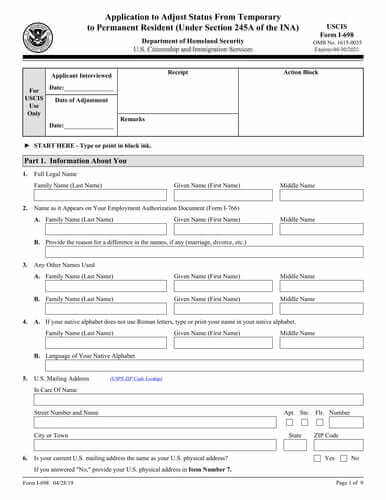 Purpose of Form
According to the Immigration Reform and Control Act of 1986 (IRCA), it's allowed to get a temporary residency in the US if you are an amnesty seeker. In most cases, people who use the amnesty program want to stay in the US and become an active part of the American society, that's why our legislation gives these people an opportunity to apply for getting a green card.
Special Instructions
If you are going to get a green card, you should file USCIS Form I-698 (Application to Adjust Status from Temporary to Permanent Resident (Under Section 245A of the INA)). However, it's possible to get this status only if you are eligible for US permanent residency. Pay attention! You have to pay $1000 to fill this form. In addition, you may be also obliged to pay an extra biometrics fee.
Download Form I-698 Download instructions Form I-698 | Application to Adjust Status from Temporary to Permanent Resident (Under Section 245A of the INA)
Last Updated 03/27/23 03:50:40AM