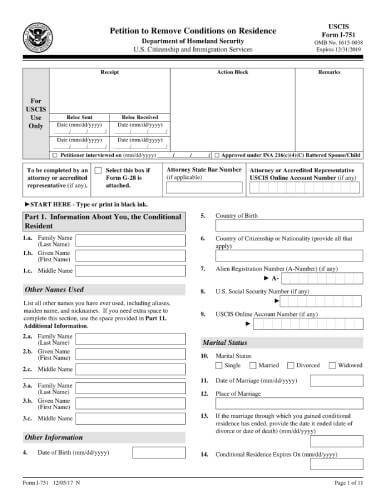 You can use Form I-751, Petition to Remove Conditions on Residence, only when you want U.S. Citizenship and Immigration Services (USCIS) to remove the conditions on your residence after you moved to the United States as a spouse of a U.S. citizen or permanent resident.
In other words, if you have married to an American, USCIS may allow you to move to the U.S. as a conditional resident, meaning you obtain the green card only for two years. During the last 90 days before your green card expiration, you should file Form I-751, Petition to Remove Conditions on Residence. Once USCIS approves your petition, you will receive the permanent resident status, and you will be able to stay in the U.S. for 10 years.
Note that you must not file Form I-90 to renew your green card if you are a conditional permanent resident – you can only use Form I-751 in this case. USCIS will simply deny your application for a new green card. You can only remove the conditions in order to become a permanent resident for 10 years again.
If you fail to file Form I-751 in time, USCIS will start the procedure of your removal from the U.S. because you are not a U.S. resident any more.
You can consult the sections below for general instructions on how to fill out Form I-751.
General Form I-751 instructions
If you file Form I-751, Petition to Remove Conditions on Residence, you should follow a few general recommendations:
Remember to file Form I-751 with USCIS within 90 days before your conditional residency expires if you are filing the form together with your spouse. But if your spouse is dead or your marriage was canceled, you can file the form with USCIS at any time. In the last two cases, you will have to specifically require USCIS to accept your Form I-751 as individually filed.
Mention your child in the Part 5 of Form I-751 if you want that their conditions on residence to be removed. Note, however, that you can write the name and the A-number of you child in the form only if they received their conditional permanent resident status on the same day as you or within the 90 days after you were granted this status.
If you fail to file the Form I-751 in time, USCIS will try to remove you from the country. But you can still apply for the removal of conditions on residence if you provide enough evidence to USCIS to prove that the circumstances prevented you from filing in time. In this case, you should consult your lawyer to understand what your chances are to obtain permanent resident status.
Follow general rules to filling out application forms before filing them with the USCIS. That is:
Use the black ink;
Sign each sheet of paper or USCIS will reject your application;
Always mention all the required information in the form;
Attach the check or other evidence that you paid the Form I-751 filing fee.
Provide enough documentation.
The last requirement is key to approval of your Form I-751 application. If you fail to submit documents such as videos, photographs, joint checks, marriage certificate copy, and other possible documents that prove your relationship with your spouse, then USCIS may deny your application, and you will be removed from the United States.
USCIS wants substantial evidence from you to approve your application; you may need to consult a lawyer who would help to gather credible documentation.
Form I- 751 fee
There are two fees related to filing Form I-751. The first one is the filing fee, which is $595 (but note that this amount may change; consult the official USCIS website to know the exact amount). Other than the filing fee, you need to prepare $85 to pay for the biometric services (the biometric services include taking and processing your fingerprints, signature, and photographs).
You can pay the fees using a money order, a personal check, a cashier's check, or even your credit card. If you decide to pay by credit card, you must file yet another form with USCIS – Form G-1450 – to obtain authorization to pay be credit card.
You must also pay the exact amounts separately (read: you cannot pay a joint amount of $680). You also cannot pay less or more for filing any form with USCIS (not only Form I-751), as otherwise your application may be rejected and money will not be returned.
Form I-751 processing time
There is no way to predict the exact time it will take for USCIS to process your Form I-751, Petition to Remove Conditions on Residence. Usually, it takes six to twelve months to approve your petition.
During the Form I-751 processing time, USCIS may require other documentation from you, or for you to appear for biometrics services, which is why you should not leave the country. If you do not provide the documents or if you fail to visit a USCIS office to take fingerprints and your photograph, the processing time for Form I-751 will be increased (what is worse, USCIS may even reject your application).
After you apply Form I-751, USCIS will notify you that they received your application. They will also mail you to the mailing address you specified in the form the dates of appointments – the biometric services appointment and the interview with your immigration officer.
Where to send Form I-751
You can only mail Form I-751, Petition to Remove Conditions on Residence, to one of the three mailing addresses, consult the Where to File section on the Form I-751 page.
If you live in...
Then file at...
Alaska
American Samoa
Arizona
Arkansas
Armed Forces - Pacific
California
Colorado
Guam
Hawaii
Idaho
Illinois
Iowa
Kansas
Louisiana
Minnesota
Missouri
Montana
Nebraska
Nevada
New Mexico
North Carolina
Northern Mariana Islands
Oklahoma
Oregon
Palau
South Dakota
Utah
Washington
Wisconsin
Wyoming

For U.S. Postal Service (USPS):

USCIS
P.O. BOX 21200
Phoenix, AZ 85036

For FedEx, UPS, and DHL deliveries:

USCIS
Attn: I-751
1820 E. Skyharbor Circle S
Suite 100
Phoenix, AZ 85034


Alabama
Armed Forces - Europe
Armed Forced - the Americas
Connecticut
Delaware
Washington, District of Columbia
Florida
Georgia
Indiana
Kentucky
Maine
Maryland
Massachusetts
Michigan
Mississippi
New Hampshire
New Jersey
New York
North Dakota
Ohio
Pennsylvania
Puerto Rico
Rhode Island
South Carolina
Tennessee
Texas
U.S. Virgin Islands
Unknown
Vermont
Virginia
West Virginia

For U.S. Postal Service (USPS):

USCIS
P.O. BOX 660480
Dallas, TX 75266

For FedEx, UPS, and DHL deliveries:

USCIS
Attn: I-751
2501 S State Hwy 121 Business
Suite 400
Lewisville, TX 75067

Form I-751 PDF
You can download a free copy of Form I-751, Petition to Remove Conditions on Residence, from our website.
Download form I-751 Download instructions Form I-751 | Petition to Remove Conditions on Residence
Last Updated 03/09/23 04:04:10AM