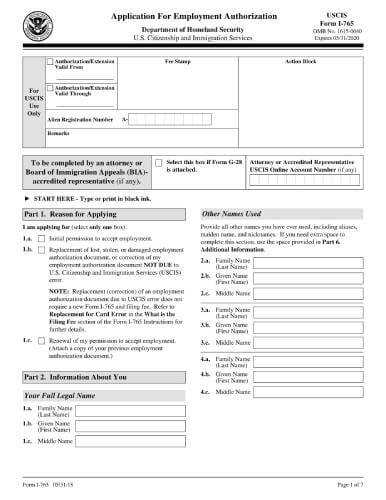 You can use Form I-765, Application for Employment Authorization, if you moved to the United States as an immigrant (typically, as a refugee or an asylum seeker) to obtain an Employment Authorization Document (EAD) and a Social Security number. With your EAD, you will be able to find a legal job in the U.S., and you will also get Social Security benefits for disability or retirement, and similar.
Note that USCIS will not accept your Form I-765 application in case you are a green card holder (a permanent resident). And it does not matter if your green card is valid for 2 year (meaning you are a conditional permanent resident) or for 10 years (when you are a lawful permanent resident).
General Form I-765 instructions
In order to increase the chances that USCIS accepts your Form I-765, follow the recommendations below:
Complete all the required sections of the form such as Reason for Applying in Part 1, and Information About You in Part 2. USCIS will reject your application if you miss out the important information. Besides, the filing fee won't be returned.
Choose the correct eligibility category. The two main categories you can this form with are an asylee or refugee. There are many more categories mentioned in the I-765 instructions; you should also contact an immigration lawyer if you are not sure about your eligibility category.
Leave a handwritten signature on each sheet of paper of your Form I-765. Avoid using cursive when writing any information into fields in the form as this may lead to problems when USCIS will analyze the text. Use block letters.
Provide the documentation that will prove your reasons for filing Form I-765. Try to get at least 2 sworn affidavits from other people who are familiar with your situation. Without the documentation, USCIS will reject your application and will not return the filing fee.
Stay in the U.S. unless you absolutely have to leave the country. USCIS will notify you when they need to take your fingerprints and photos, and you must be located in the U.S. If you fail to appear at a designated USCIS office, your Form I-765 will be rejected.
Form I-765 filing fee
As specified on the USCIS website, Form I-765 applicants must pay $410 for processing their application. However, depending on the category you are filing Form I-765, USCIS may also demand an additional fee of $85 for taking your photographs, fingerprints, and signature.
You must pay the fee for biometric services only if:
You requested consideration of Deferred Action for Childhood Arrivals (DACA) using Form I-821D;
You are a beneficiary of an approved employment-based immigrant petition; or
You are a spouse or an unmarried child of a beneficiary of an employment-based immigrant petition who is facing compelling circumstances.
USCIS will request that you pay $85 if they consider it necessary.
Form I-765 processing time
As usual with processing of any application form, none USCIS office can give you any timeframe on processing your Form I-765 application. You should be ready to wait for several months before USCIS processes your information and takes a decision to issue a new green card in your name or not.
Where to send Form I-765
You can send you Form I-765, Application for Employment Authorization, to three USCIS mailboxes. You can only send the application to the specific mailbox depending on the state where you live, though. Visit the Where to File section on the Form I-765 page to get the exact information.
Form I-765 PDF
Download Form I-765, Application for Employment Authorization, directly from our website. You can also download full instructions for Form I-765.
Download I-765 form Download instructions Form I-765 | Application for Employment Authorization
Last Updated 03/09/23 03:53:27AM