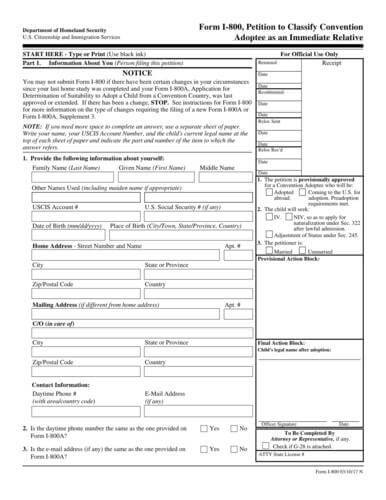 Purpose of Form
If you decided to adopt a child from another country, you should follow the special procedure according to the legislation of the US. In fact, it's necessary to file two special forms. There are also different adoption requirements according to the laws of different states, that's why you are obliged to attach these files as well.
Special Instructions
The first one is Form I-800A (Application for Determination of Suitability to Adopt a Child from a Convention Country). During submitting this form, you have to prove that you are eligible and you have enough financial resources to adopt a child from another country. After that, you have to file USCIS Form I-800 (Petition to Classify Convention Adoptee as an Immediate Relative). You can use this form only if you are going to adopt the child who currently lives in a Hague Convention Country. In addition, during filling Form I-800, you have to attach approved Form I-800A in order to provide comprehensive info about the child whom you are going to adopt. Form I-800 is usually filed with Form I-864 or Form I-864W.
Download I-800 Form Download instructions Form I-800 | Petition to Classify Convention Adoptee as an Immediate Relative
Last Updated 03/26/23 05:40:13AM