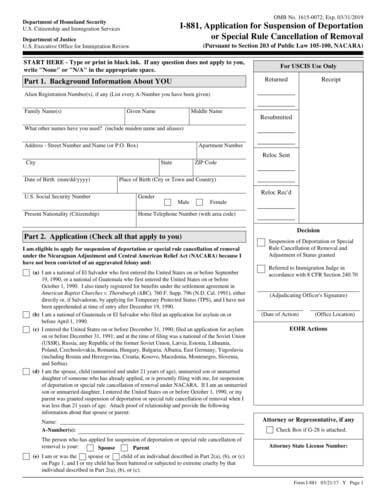 Purpose of Form
In most cases, people who are applying for a nonimmigrant visa to the US have to file a special Form I-864 (Affidavit of Support), which proves that there is a person in the US who can financially support you. It was made in order to avoid situations, which turn this person into a real burden on the US social assistance programs. Moreover, it has to stop these people from taking illegal work. However, there are also exceptions from the general rule of filling Form I-864 (Affidavit of Support).
Special Instructions
Some people are not obliged to fill Form I-864 (Affidavit of Support). For example, if you have a passive income outside the US, independent means or other reliable sources of income, you can fill USCIS Form I-864W (Intending Immigrant's Affidavit of Support Exemption). In fact, this form shows that you don't need a sponsor.
Where to File
If you live in
Then mail your application to
Alaska
Arizona
California
Guam
Hawaii
Idaho
Illinois
Indiana
Iowa
Kansas
Kentucky
Michigan
Minnesota
Missouri
Montana
Nebraska
Nevada
North Dakota
Oregon
Ohio
South Dakota
Washington
Wisconsin
USCIS California Service Center
P.O. Box 10881
Laguna Niguel, CA 92607-0881

Alabama
Arkansas
Colorado
Connecticut
Delaware
District of Columbia
Florida
Georgia
Louisiana
Maine
Maryland
Massachusetts
Mississippi
New Hampshire
New Jersey
New Mexico
New York
North Carolina
Oklahoma
Pennsylvania
Puerto Rico
Rhode Island
South Carolina
Tennessee
Texas
Utah
United States Virgin Islands
Vermont
Virginia
West Virginia
Wyoming
USCIS Vermont Service Center
Attn: I-881
75 Lower Welden St.
St. Albans, VT 05479-0881
Don't forget to sign your form! Your application may be rejected and returned to you if it isn't signed.
Download Form I-881 Download instructions Form I-881 | Application for Suspension of Deportation or Special Rule Cancellation of Removal (Pursuant to Section 203 of Public Law 105-100 (NACARA))
Last Updated 03/27/23 04:04:10AM