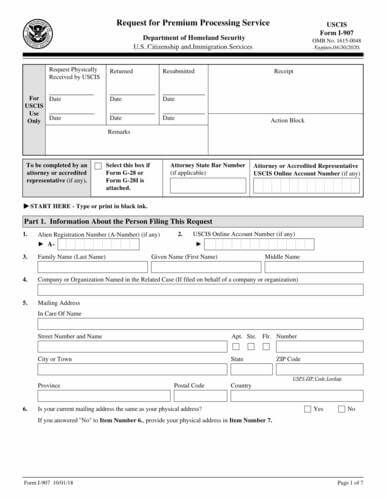 Purpose of Form
US employers filling employment-based applications really want to get the positive result within a tight timeframe. It's due to the fact that application review delays can cause unpredictable expenses or decrease the income of employers because they cannot continue their company development without some people. The US government gives you a possibility to get faster application processing in some instances.
Special Instructions
For example, you can use Form I-140 (Immigrant Petition for Alien Worker) and Form I-129 (Petition for a Nonimmigrant Worker), which are eligible for faster application processing time. In addition, you can apply for getting Premium Processing Services by filling the form I-907 (Request for Premium Processing Service). However, pay attention to the fact that there is an additional fee for this service.
Download instructions Form I-907 | Request for Premium Processing Service
Last Updated 03/09/23 04:21:56AM