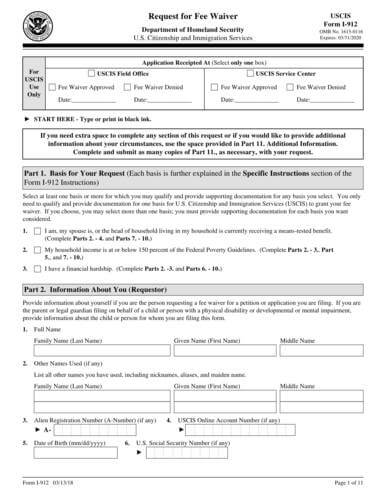 Purpose of Form
The USCIS is a special government organization, which provides public services for people in the US, including immigrants. Unlike other agencies, which are usually funded by taxes from the state budget, this organization ensures almost all this budget with the help of fees, which they get by providing their services. However, there are some situations where immigrants cannot pay for all the filling costs. In this instance, they need to fill I-912 (Request for Fee Waiver) and the initial form and ask for waiving the filling fee in their case.
Special Instructions
Before filing this form, you should make sure whether your application is eligible for fee waiver. You can check this information right here - http://www.uscis.gov/feewaiver. In addition, you also have to explain why you cannot pay the filling fee. The USCIS considers each application individually in order to make the right decision.
Download Form I-912 Download instructions Form I-912 | Request for Fee Waiver
Last Updated 03/26/23 06:18:59AM