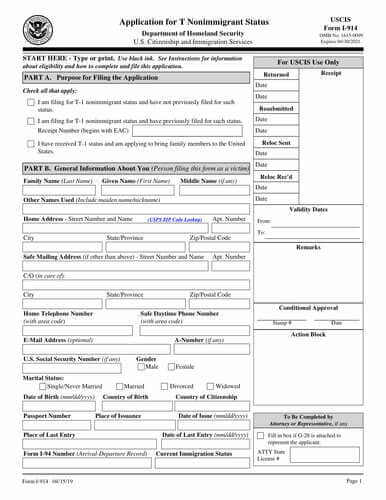 Purpose of Form
Human trafficking is a serious international problem. In most cases, human traffickers look for young people, children or vulnerable people and smuggle them into other states in order to use these people in other spheres: as sex slaves, for forced marriages, labour trafficking and even trafficking for organ trade. All developed countries adopt special programs in order to stop this criminal activity and the US is no exception. If you are a victim of human trafficking in the United States, you can apply for getting temporary immigration benefits.
Special Instructions
In order to get these benefits in the US, you should fill I-914 (Application for T Nonimmigrant Status).
Download form I-914 Download instructions Form I-914 | Application for T Nonimmigrant Status
Last Updated 03/26/23 06:19:47AM