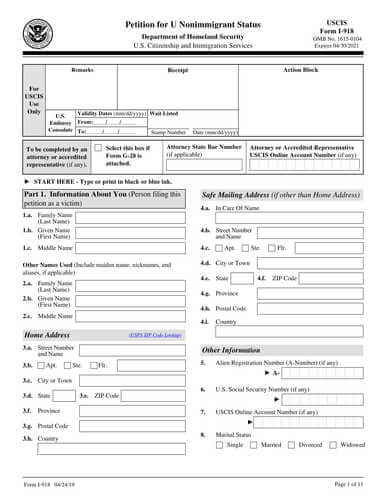 Purpose of Form
There is a possibility to become a victim of crime if you are an ordinary immigrant in the US. According to your status, it may be a bit difficult to report a crime or become an active member of the court process, that's why the US made it significantly easier by providing a special status, which also known as "U" status. Moreover, you should understand that not only legal immigrants but also undocumented immigrants can apply for this status in order to report the crime and help the police to find the guilty person.
Special Instructions
In order to have a possibility to get "U" nonimmigrant status, you have to be a victim of a crime and fill USCIS Form I-918 (Petition for U Nonimmigrant Status). In some instances, even family members of victims can get this status as well.
Download form I-918 Download instructions Form I-918 | Petition for U Nonimmigrant Status
Last Updated 03/26/23 06:20:29AM