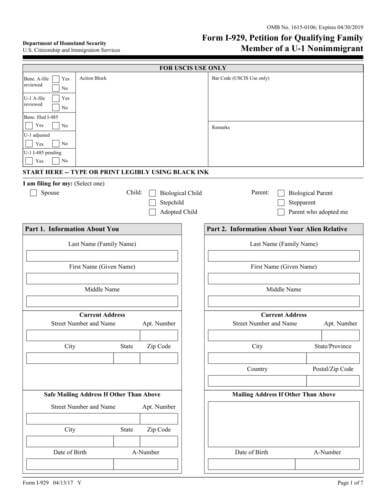 Purpose of Form
There is a special procedure in the US, which gives victims of crimes a possibility to get the status of U nonimmigrant status. This status ensures you special immigrant benefits if you are a victim of serious crimes. In fact, this status was created in order to eliminate all obstacles on the way of solving crimes. Moreover, this status is available not only people who stay in the US legally but also illegal undocumented immigrants. In some cases, victims can apply for these benefits on behalf of other family members in order to get family member's help in the US.
Special Instructions
If you want to get this status, you should fill the form I-929 (Petition for Qualifying Family Member of a U-1 Nonimmigrant).
Download form I-929 Download instructions Form I-929 | Petition for Qualifying Family Member of a U-1 Nonimmigrant
Last Updated 03/26/23 06:21:56AM