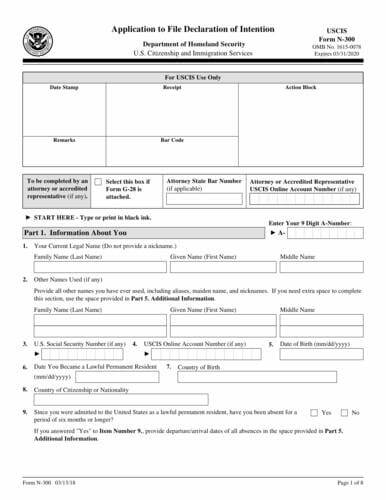 Purpose of Form
There are some states that require a Declaration of Intention to get the citizenship of the US in order to allow new citizens to conduct business on the territory of this state. If you've become a citizen not so far ago and you want to become an entrepreneur and start your own business, you will be forced to submit your Declaration of Intention.
Special Instructions
Attention! It's not an obligatory document, which you need to become a US citizen. Moreover, it's not required in all states. However, if your state demands this document, you get it by filling USCIS Form N-300 (Application to File Declaration of Intention). It has to be filled at the USCIS office, which has jurisdiction on the territory of applicant's residence.
Download form N-300 Download instructions Form N-300 | Application to File Declaration of Intention
Last Updated 03/26/23 06:21:13AM