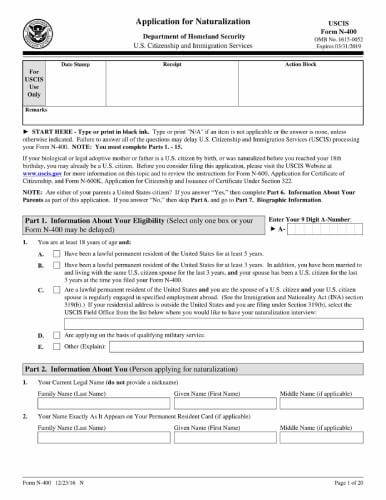 To fill out correctly your Application for Naturalization, also known as Form N-400, you need to follow the strict rules established by U.S. Citizenship and Immigration Services (USCIS).
In this page, you will find advice on how to fill out Form N-400 and get great chances of receiving your Certificate of Naturalization.
Form N-400 instructions
Here are a few general recommendations on how to fill out your Application for Naturalization:
Answer all questions fully. If you omit any relevant information, USCIS may defer or even decline your application. If you do not know the answer to a question, you should contact an immigration lawyer who can clarify the question for you and give other instructions on how to fill out Form N-400. You can also find an explanation in the Form N-400 official instructions.
Use additional sheets of paper when you cannot provide all the information in the application form. Usually, you need to use additional sheets of paper when you give a list of all your trips outside the United States. Always remember to write the section number on the sheet of paper as well as your full name, Alien number, and the page number to which this sheet of paper refers.
Avoid correcting the application form. If you made a mistake, just print out another Form N-400 sample and start filling it from scratch. If you try to correct the data in the form, USCIS may reject your application.
Remember to sign the form before sending it, otherwise USCIS will reject your application.
Use block letters (also known as printed letters) if you fill out the physical form. Cursive handwriting can be difficult to scan automatically, and if your application is too difficult to read, USCIS may also reject it.
Do not mix Form N-400 with Form I-90, Application to Replace Permanent Resident Card. Use Form I-90 when your green card is mutilated, damaged, or expired. And use Form N-400 if you want to become an American (U.S. citizen).
If you need more information about Form N-400, you can consult your lawyer, read the full N-400 Instructions, or contact us.
Form N-400 fee
USCIS currently sets the filing fee for Form N-400 to $640. Also note that you may need to pay an additional fee of $85 for the biometrics services (in USCIS, your immigration agent will take your fingerprints and photographs). Paying the biometrics fee isn't necessary if you are 75 years of age, though. Also, you can avoid paying the additional fee if you are a military.
Remember to verify the current pricing for processing Form N-400 as USCIS may change the fee. And if you fail to pay the exact amount (you must not pay less or more for Form N-400), USCIS will reject your application.
Form N-400 processing time
It is impossible to predict how much time it will take to process your Application for Naturalization. Typically, in two or three weeks time after you filed the application USCIS will send a confirmation – Notice of Action or Form I-797C – to your mailing address. After that, USCIS will also notify you about the appointment to get your biometrics data, which is usually set in 1-2 months. The entire process may take 6 up to 12 months.
In order to increase the chances for rapid processing of your Application for Naturalization, we strongly recommend to file the form with all the necessary documents that USCIS may need. You should also fill out the form correctly and pay the exact filing fee. You also should not miss the biometrics appointment or fail to send the documentation that USCIS may request after they received your application.
If you do not stick to these recommendations, the processing time for your Application for Naturalization will increase. Not only that, USCIS may reject or even deny your application.
Where to send Form N-400 (Mail address)
USCIS allows you to file Form N-400 online, but you need an online account with DHS to be able to do that. Otherwise, you need to file your Application for Naturalization by mail to different mailboxes depending on the state where you live. For the correct USCIS mailing addresses, you can consult the Where to File section on the N400 official page.
If you live in:

Mail your form to:

Alaska
Arizona
California
Colorado
Micronesia
Guam
Hawaii
Idaho
Kansas
Mariana Islands
Montana
North Dakota
Nebraska
Nevada
Oregon
Utah
Washington
Wyoming

For U.S. Postal Service (USPS):

USCIS
P.O. Box 21251
Phoenix, AZ 85036

For FedEx, UPS, and DHL deliveries:

USCIS
Attn: N-400
1820 E. Skyharbor Circle S
Suite 100
Phoenix, AZ 85034

Arkansas
Connecticut
District. Of Columbia
Delaware
Florida
Georgia
Kentucky
Louisiana
Massachusetts
Maryland
Maine
Mississippi
North Carolina
New Hampshire
New Jersey
New Mexico
New York
Oklahoma
Puerto Rico
Rhode Island
South Carolina
South Dakota
Tennessee
Texas
Virginia
Virgin Islands
Vermont
West Virginia

For U.S. Postal Service (USPS):

USCIS
P.O. Box 660060
Dallas, TX 75266

For FedEx, UPS, and DHL deliveries:

USCIS
Attn: N-400
2501 S State Hwy 121 Business
Suite 400
Lewisville, TX 75067

Illinois
Indiana
Wisconsin
Iowa
Michigan
Minnesota
Ohio
Missouri
Pennsylvania

For U.S. Postal Service (USPS):

USCIS
P.O. Box 660060
Dallas, TX 75266

For FedEx, UPS, and DHL deliveries:

USCIS
Attn: N-400
2501 S State Hwy 121 Business
Suite 400
Lewisville, TX 75067
Form N-400 PDF
You can download a free Form N-400 application form in the PDF format from our website. Form N-400 PDF
Download Form N-400 Download instructions Form N-400 | Application for Naturalization
Last Updated 11/11/23 10:46:05AM