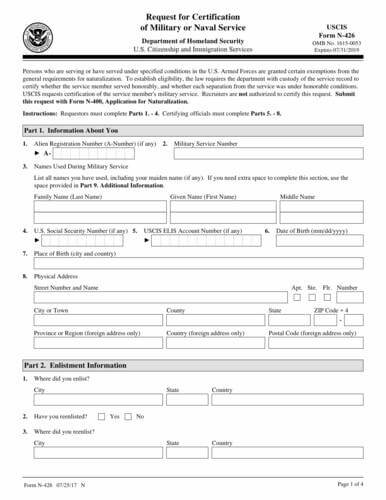 Purpose of Form
If you are a member of naval or military service in the United States and you want to get the citizenship of our country, you need to refer to the Department of Defense. This Department will verify your status of a military member.
Special instructions
In order to verify the fact that you are serving in the US Armed Forces, you need to fill USCIS Form N-426 (Request for Certification of Military or Naval Service) if a USCIS office request it. In this instance, fill this form and send it the office which requests it. You may be also forced to attach Form N-400 and Form G-325B if you applying according to Section 328/329 of the Immigration and Nationality Act.
Download N-426 Form Download instructions Form N-426 | Request for Certification of Military or Naval Service
Last Updated 05/16/23 12:58:20AM