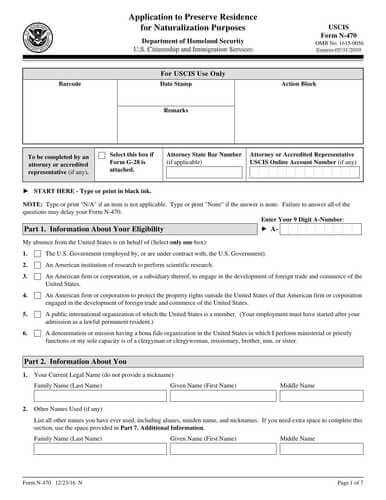 Purpose of Form
If you are a green card holder, you can permanently stay in the US. It is not prohibited to live and work in our country if your green card is valid. However, if you want to become a citizen of the US, you have to stay in our country for a particular period of time without interruptions. The long-term residence is an obligatory requirement. However, if you need to leave the territory of the US for work, for example, and you don't want to lose your status because you are going to get the US citizenship in the future, you should fill the form N-470 (Application to Preserve Residence for Naturalization Purposes).
Special Instructions
Fill the form N-470 in order to save your status and get the opportunity to become a citizen of the US in the future. This form has to be applied before leaving the US.
Download the form N-470 Download instructions Form N-470 | Application to Preserve Residence for Naturalization Purposes
Last Updated 02/22/20 02:23:39AM