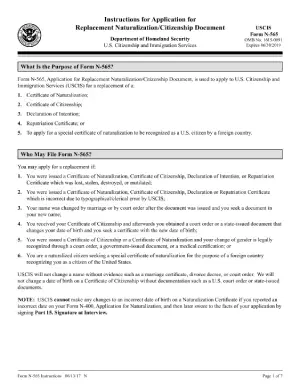 An N-565 is a form used by U.S. Citizenship and Immigration Services (USCIS) to request a replacement or duplicate of a lost naturalization certificate and/or certificate of citizenship that was destroyed.
If you are a naturalized U.S. citizen, you should keep your naturalization certificate in a safe place with other important documents. You will need to show your certificate if you:
Apply for a U.S. passport
Register to vote
Apply for certain jobs that require proof of U.S. citizenship
If you become a naturalized U.S. citizen, you will receive a certificate as proof of your citizenship. The certificate is also evidence of your legal name change if you changed your name when you were naturalized.
If you lose your certificate or it is damaged, you can apply for a replacement using form N-565.
To request a duplicate or replacement certificate using form N-565, you must:
Be a current U.S. citizen or lawful permanent resident
Have been previously issued a naturalization certificate or certificate of citizenship by USCIS
Submit proof of identity, such as a copy of your valid driver's license or passport
Include any other relevant supporting documents to show that you are entitled to the duplicate or replacement certificate
Pay the filing fee of $555, or submit a fee waiver request
You can find form N-565 and instructions on the USCIS website.
How to Fill Form N-565
Fill Form N-565 is a three-step process.
First of all, you must gather the required documents.
Secondly, you must complete the form.
Thirdly, you must submit the form and required documentation to USCIS.
To complete the form, you will need to provide your name, date, place of birth, current address, and the date and place where you were naturalized or granted citizenship. You will also need to explain why you are requesting a replacement certificate.
Once the form is complete, you will need to sign and date it and mail it to the address listed on the form. USCIS will then process your request and mail you a new certificate.
Instructions/Checklist Form N-565: General Instructions
Here are some instructions Form N-565 has that may come in handy. The form can be filed online or by mail. If you are filing by mail, send your completed form, supporting documents, and filing fee to the address listed on the form.
If you are filing online, you will need to create an account and provide an email address. You may also need a Checklist Form N-565. After you complete the form, you will be prompted to pay the filing fee with a credit or debit card. You will then be able to upload your supporting documents.
Supporting documents include:
Proof of U.S. citizenship for the person on whose behalf you are applying (e.g., a birth certificate or naturalization certificate)
Proof of identity for the applicant (e.g., a driver's license or passport
Two passport-style photographs of the applicant
The form must be signed and dated by the applicant. If the applicant is under the age of 16, the form must be signed by a parent or guardian.
Fee/Pricing Form N-565
What is the filing fee Form N-565 requires? The current pricing Form N-565 demands is $555. Fee waiver requests must be submitted on Form I-912, Request for Fee Waiver.
As part of your application process, you can also check Form I-824 and Form I-134 for additional information about petitions and financial support applications.
Processing Time Form N-565
The processing time Form N-565, the Application for Replacement Naturalization/Citizenship Document, will take varies. It may take up to 5 or 8 months to process your form. You will receive an email or letter from us when authorities receive your form and again when they process it and place it in their outgoing mail.
Mail Address Form N-565: Where to Send It
Where to send Form N-565? If you send your Immigration Form N-565 by mail, you should forward it to the address listed on the form. If you are unsure of the Mail Address Form N-565, you can check the USCIS website for more information.
Where Can You Download a PDF Immigration Form N-565
The pdf N-565 form is available for free on the USCIS website. It can also be obtained by calling the USCIS National Customer Service Center at 1-800-375-5283 (TTY 1-800-767-1833).
Download Form N-565 Download instructions Form N-565 | Application for Replacement Naturalization/Citizenship Document
Last Updated 03/26/23 05:17:29AM