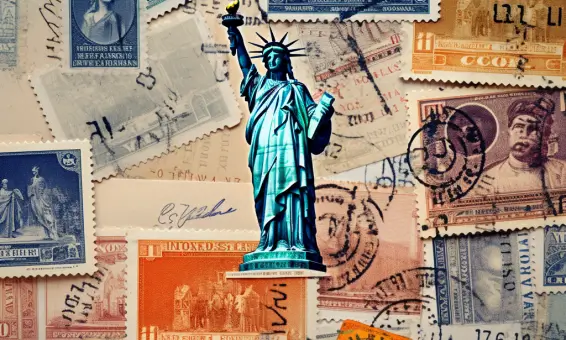 If the American consulate or U.S. embassy issued you a visa, the official most likely stamped your passport with the visa. The consular representative physically inserts a visa stamp into your passport.
If your visa stamp for the U.S. is valid and not expired, you can ask to enter the United States at the border. There, a U.S. Customs and Borders Protection (CBP) officer will check your visa in your passport and all your documents to decide if you can enter.
Guide to Reading the U.S. Visa Stamp
When you arrive at the U.S. port of entry, U.S. visa stamps offer essential details to the inspecting CBP officer. This information is necessary for visa type and duration. Errors or inaccuracies may result in substantial issues.
Hence, it's crucial to carefully examine the visa when it's issued to confirm its accuracy. This guide aims to explain the details of a U.S. visa stamp, providing you with the knowledge to decipher it. You can use the example visa below as a reference throughout this explanation.
Your Name. Make sure your first and last names on your passport match exactly.
Issuing Post. Visa issuing posts come from the place where the U.S. embassy or consulate approved it.
Gender. Your gender on the visa should be similar to one in your passport.
Birth Day. Your birthdate on the visa should match your passport's birthdate.
Visa Control Numbers. The code in the top right corner of your U.S. visa stamp is like a unique number that the State Department uses to keep track. Usually, it doesn't mean much to you.
Visa. The letter "R" stands for "regular" passports.
Class/Category. The code here tells you what the visa is for. Most tourists see "B1/B2" here.
Visa ID number. The visa numbers, sometimes called visa foil numbers, are the red digits on the lower right side of newer visas. It usually has eight numbers, but sometimes there's one letter at the front and then seven numbers.
Expiration. The visa's expiration date is the last day you can use it to enter the U.S. It doesn't mean you can stay that long. Some visas last ten years, but you can't stay for that whole time. Another paper called Form I-94 says when you have to leave.
Issue Date. This is the day when the embassy or consulate gives you the visa.
Annotation. This part might have more info about your visa, like if you're in an exchange program or a student. Or it could have your SEVIS number and school name if you're an F-1 student.
Entries. This shows how many times you can enter the U.S. If it has a number, that's how many times. "M" means lots of times, there's no limit.
Passport ID number. Make sure this number matches your passport. If it doesn't, it can cause problems.
Certain individuals may visit the U.S. without a visa stamp.
Not everyone needs visa stamps in their passport to enter the United States. Certain foreign nationals may enter the United States without visas for a brief period.
Visa Waiver Programs
Visitors from nations included in the Visa Waiver Program (VWP) of the United States may stay for up to 90 days. Generally, travelers must have a valid B-2 visiting visa, and their trip must be for leisure, tourism, or medical reasons.
Visitors to the VWP must apply for entry authorization via the E-Systems for Travel Authorizations (ESTA) of the US Department of Homeland Security (DHS) before departing for the US.
Bermudian and Canadian Citizens
Once again, if you're planning a trip for leisure in the United States, here's some good news for citizens of Canada and Bermuda – you don't need a U.S. visa stamp.
As long as you're eligible under U.S. immigration law and haven't broken the rules during previous visits, you can use your passports to enter.
However, if your visit extends 180 days or you're coming for purposes that don't align with a B-2 visa, you might need a visa.
Last Updated 09/17/23 05:37:09AM