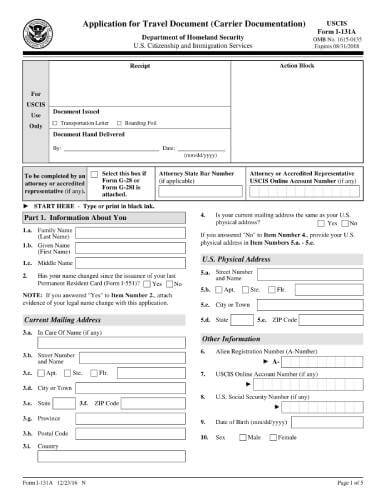 In the simplest terms, using a Form I-131A you can obtain a travel document from USCIS and be able to enter the United States after you traveled abroad. Because you have to provide a document to a commercial carrier allowing you to enter the U.S. (such as visa), if you do not have a valid, unexpired green card with you at the time of arrival, the carrier may not let you enter the country. But you can apply for the Travel Document, and use it as permission not to use a visa.
Do NOT confuse Form I-131A with Form I-131. Although both forms let you demand a travel document from USCIS, they are still different. Read more about Form I-131 in a dedicated article.
It is also worth noting that even if you do have a travel document issued in your after you filed Form I-131A the carrier may not let you in the country. The possession of a travel document does not automatically grant you the right to enter the U.S.; besides, the Department of Homeland Security (DHS) may revoke your travel document at any time. In case your green card had expired, and you want to obtain a new one, you need to file Form I-90, Application to Replace Permanent Resident Card (a green card).
Form I-131A instructions
First, we must give a list of the conditions under which you cannot file Form I-131A. Here are they:
You are located on the territory of the US.
You lost your lawful permanent resident status or conditional permanent resident status for whatever reasons.
USCIS has already issued a travel document in your name and the document is not expired.
Therefore, you must be legally admitted to the US through a Port-of-Entry (typically, a seaport or an airport), and you must also possess a valid green card (which is yet to expire). Typically, you can enter the US with your green card and without a visa after you traveled abroad for the time of one year; but, if you lost your green card or it was damaged, you can apply for the Travel Document using Form I-131A. Note that you also typically apply for travel document in a US Embassy or Consulate.
Concerning how you need to fill out the application form, the following rules apply:
Fill out the form in black ink using block letters. Sign the form properly, however.
Pay the exact fee.
Provide all the required information on the form. If you fail to provide any data that
USCIS might need, you application will be rejected or even denied, and you will not be able to legally enter the US.
Provide the documents to support you form.
The typical document that you need to file with the form are the copy of your passport and, if possible, your green card. Therefore, you may need to include the following documents:
The original passport and one copy of the biographic page in your passport.
A copy of your green card. USCIS also accepts other documentation proving that you have permanent resident status: provide a copy of your immigrant visa or the Customs Border Protection admission stamp in your passport.
A copy of your tickets or any similar documents that can prove when you left the US and when you were going to return to the US.
A color passport-style photograph of yourself taken within 30 days of filing Form I-131A. The photo must have a white to off-white background, be printed on thin paper with a glossy finish, and be unmounted and unretouched. Other requirements to photograph are that it must be 2 by 2 inches and show in color your full face, frontal view on a white to off-white background. Remember to mark the photograph with your name and the A-Number on the back of the photograph.
Form I-131A fee
The filing fee for Form I-131A is $575. Notice that you are not required to pay the additional fee of $85 for the biometric services.
Form I-131A processing time
USCIS does its best to reduce the period for processing Form I-131A applications, and so it usually takes half a month or a bit more to approve your application for the travel document. To increase your chances, remember to include all the documents and fill out the entire form without mistakes.
Where to send Form I-131A
You do not need to mail Form I-131A to a USCIS office. Instead, since you are trying to enter the US, you can only hand your application in person in a US Embassy or Consulate.
Form I-131A PDF
Need the Form I-131A copy? Download it from our website.
Download pdf form I-131A Download instructions Form I-131A | Application for Travel Document (Carrier Documentation)
Last Updated 07/24/22 03:19:32AM