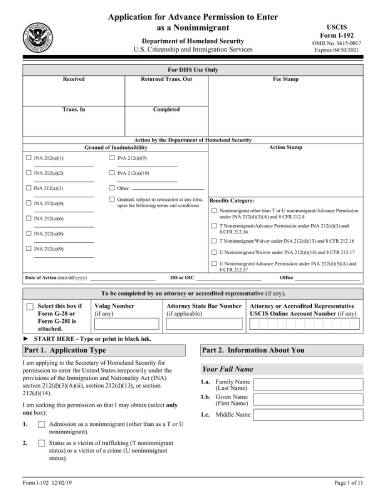 Form Is Used for
Nonimmigrants with the status of inadmissibility can use the form to request for a prior approval for their temporary arrival to the USA.
Aliens can avail of this form if they are:
inadmissible nonimmigrants who have corresponding documents;
applicants for T nonimmigrant status;
applicants for U nonimmigrant status.
NB: Applicants wising to get admitted to the country under the Visa Waiver Program (VWP) according to the Immigration and Nationality Act section 217 shouldn't choose the I-192 form. Inadmissible citizens of VWP states have to effect an application for nonimmigrant visas at a USA consulate and get an approval for entering the territory of the country. Find a corresponding US embassy or consulate to get advice about how to legally enter the country under VWP.
Details
This type of applications can be processed in various ways:
Applying with U.S. Customs and Border Protection. In this case, a resolution is carried out by the Admissibility Review Office that notifies the applicant about its decision in a written form. It is sent by mail to the applicant's address directly after the decision is made. The officials recommend making a request about the application status not sooner than after 90 days from the date when the form was submitted. The request can be made online, via e-mails inquiry.waiver.aro@dhs.gov and attorneyinquiry.waiver.aro@dhs.gov (for lawyers' requests).
Applying with US Citizenship and Immigration Services. USCIS reviews the submitted applications and sends notifications with a resolution adopted via mail to the provided applicant's address. Any issues related to the application can be discussed through their customer support at 1-800-375-5283.
The I-192 form is based on several sections of INA:
212(a) – specifies grounds for designating inadmissibility;
212(d)(3)(A)(ii), 212(d)(13) and (14) – provides rules and regulations based on which the form is designed (additional info can be found in the Title 8 Code of Federal Regulations (CFR), parts 212.4(b), 212.16 and 212.17, 214.11, and 214.14 for those applying for T and U visa).
Download form I-192 Download instructions Form I-192 | Application for Advance Permission to Enter as a Nonimmigrant
Last Updated 04/27/23 06:13:04AM