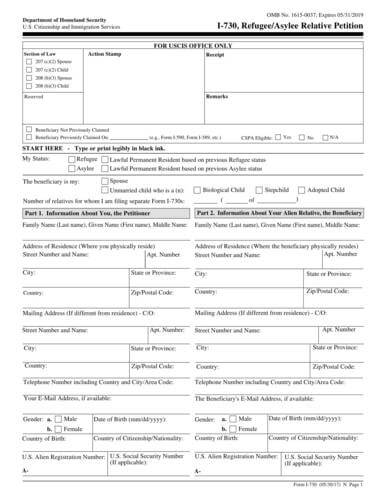 Purpose of Form
Refugees or people who are looking for asylum in the US usually worry about their relatives or children because there is always a risk of getting in a difficult situation or hazards, which forced the refugee to leave his or her country. If you have got a refugee status two years ago, you can get benefits for your unmarried children under 21 and your wife or husband.
Special Instructions
If you are a refugee in the US and you worry that your family can face the same problems that made you seek asylum in the US, you should file USCIS Form I-730 (Refugee/Asylee Relative Petition) in order to help your family members to enter the US as well.
Where to File
If you live in:
Then mail your petition to:
Alaska
Arizona
California
Colorado
Guam
Hawaii
Idaho
Illinois
Indiana
Iowa
Kansas
Michigan
Minnesota
Missouri
Montana
Nebraska
Nevada
North Dakota
Ohio
Oregon
South Dakota
Utah
Washington
Wisconsin
Wyoming

Nebraska Service Center
P.O. Box 87730
Lincoln, NE 68501-7730

Alabama
Arkansas
Connecticut
Delaware
District of Columbia
Florida
Georgia
Kentucky
Louisiana
Maine
Maryland
Massachusetts
Mississippi
New Hampshire
New Jersey
New Mexico
New York
North Carolina
Pennsylvania
Puerto Rico
Rhode Island
South Carolina
Oklahoma
Tennessee
Texas
Vermont
Virginia
U.S. Virgin Islands
West Virginia
Texas Service Center
P.O. Box 852824
Mesquite, TX 75185

Don't forget to sign your form! We will reject any unsigned form.
Download Form I-730 Download instructions Form I-730 | Refugee/Asylee Relative Petition
Last Updated 03/26/23 05:53:56AM